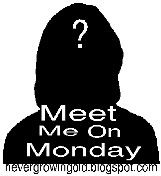 1. What do your normally eat for breakfast?
On weekdays I eat Quaker Oatmeal To Go bars, usually the brown sugar cinnamon flavor though sometimes oatmeal raisin.  I cannot eat until I have been up for a few hours so I take it  to work with me then when I finally feel hungry I stick it in the microwave for 10 seconds and it is great with some coffee.
2.  What kind of car do you drive?
I drive a Volvo 960, have  no clue on the year but I love my car!!!
3.  Have you ever met a famous person(s)?
Yep met Roger Bingham (known as Kentucky Joe) from the Survivor show.  We had nominated my mom to carry the Winter Olympic Torch when it came through one year and she was one of those  selected.  Roger was one of the carriers as well so we got to meet him briefly, really super nice guy.
4.  What is your favorite ice cream flavor?
United Dairy Farmers Homemade Brand Chocolate Chip Cookie Dough is  hands down my favorite.  Only thing that makes it better is Hershey's DARK chocolate syrup over it!
5.  Which TV Channel do you watch the most?
I couldn't even be certain.  I do not  watch TV except for the news maybe once a month? I was a big '24′ fan but that, other than watching Bengal's  football  games,  is about the extent of my TV viewing.